Linkbuilding met bloggers: Netwerken is de key
Linkbuilding, een vervelende en tijdrovende klus waar bijna iedereen tegen op gaat kijken. Nochtans kan het ook best 'leuk en interessant' worden. Kwestie is dat velen die eraan beginnen 1 belangrijk aspect over het hoofd zien: Netwerken.
Kijk een link vragen en krijgen van iemand die je nog van haar of pluimen kent is zeer moeilijk. 'Kent' die persoon je ergens van, dan wordt het een compleet ander verhaal. Daarom dat netwerken en linkbuilding een ideaal koppel vormen.
Laten we het daar dus even over hebben vandaag..

Een ideale doelgroep om een deel van je linkbuilding campagne op te gaan richten zijn de bloggers in je markt. Bloggers beschikken meestal over een aardig netwerkje en een aanhang van mensen die hem/haar op de voet volgt. Een link van een blogger , die meestal zal bestaan uit een contextuele link, is niet enkel goed voor je seo inspanningen, maar beter nog, de aandacht en het verkeer dat het naar je site kan genereren is een pak meer waard als je het mij vraagt.
Netwerken zit ons mensen gewoon in de genen..vroeger hoorde ik altijd : ' de beste biz deals worden aan de toog gesloten' en daar zit wel een kern van waarheid in. Maar een netwerk moet je opbouwen en vooral onderhouden om er vroeg of laat return op te krijgen.
Nu om maar gelijk op de bal te spelen, je bent nieuw in een markt, hoe vind je bloggers in je markt en hoe kom je op hun 'I like you' lijstje te staan ?
Dit is de manier die ik gebruik om me te integreren :
Stap 1 : Manueel Data verzamelen
Gebruik Google blogs om je targets te zoeken. Om het iets duidelijker te maken : ik heb net een webshop opgestart waar ik skimateriaal ga verkopen.
Ik ga naar Google en tik bijvoorbeeld in : "wintervakantie" en selecteer bovenaan (of in de linker menu balk) Blogs

Google gaat me nu enkel 'blogs' tonen in de resultaten, een kwestie van alle resultaten te overlopen en checken of er iets tussenzit wat ooit iets voor ons zou kunnen betekenen. Heb ik een site gevonden, dan ga ik me op hun rss feed abonneren zodat we die makkelijk kunnen volgen en waar gepast een reactie kunnen plaatsen die een toegevoegde waarde heeft.
Een "Waaw, geweldig artikel ! Dank je.." reactie is dat dus niet ;)
Er zijn 2 tools die ik kan aanraden om je te organiseren. Dat zijn de Google reader en Yahoo pipes. Laten we beginnen met de reader.
Je klikt op het rss icoontje in de url balk (of de rss link ergens op de site als die aanwezig  is)

En voegt die toe aan de Google reader :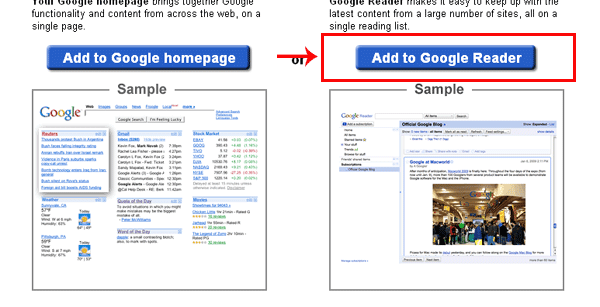 Eenmaal die in je reader zit, dan maak je best een mapstructuur aan zodat je de feeds per topic kan onderbrengen :

Zodat je iets in deze aard hier krijgt :

Onze mappen met de blogs die erin zitten en het aantal ongelezen/nieuwe items in het vet aangegeven.
De titel van de posts en een korte inleiding, makkelijk om snel te scannen en te zien of je ergens een reactie kan nalaten.
Het enige nadeel van de feed reader is dat je niks kan gaan filteren en als je 50-100 of meer blogs hebt zitten, het best wat tijd kan in beslag nemen om alles te scannen. Nu hebben we een map zitten 'vakantie algemeen' waar ze het niet altijd over wintervakanties of zo gaan hebben en minder mijn interesse / doelgroep is.
Als ze schrijven over strandvakanties aan de Spaanse kust dan heb ik daar eigenlijk geen boodschap aan en zou het mooi zijn mochten we alle overbodige rommel eruit kunnen halen.
Met Google's reader kan dat niet maar wel met Yahoo pipes"¦
Met Yahoo pipes kan je bijzonder geavanceerde dingen gaan doen maar laten we ons maar bij de basis houden om te beginnen. Als je geen Yahoo email hebt, dan zal je er toch eentje moeten aanmaken. Heb je die bij de hand, dan surf je naar http://pipes.yahoo.com/pipes/ en klik je op 'create a pipe'

En word je naar je werkblad genomen. Daar gaan we onze eerste pipe gaan aanmaken door middel van een drag & drop systeem. In eerste instantie nemen slepen we de module 'fetch site feed' naar het werkblad :

En gaan we de url's gaan toevoegen die we erin willen zien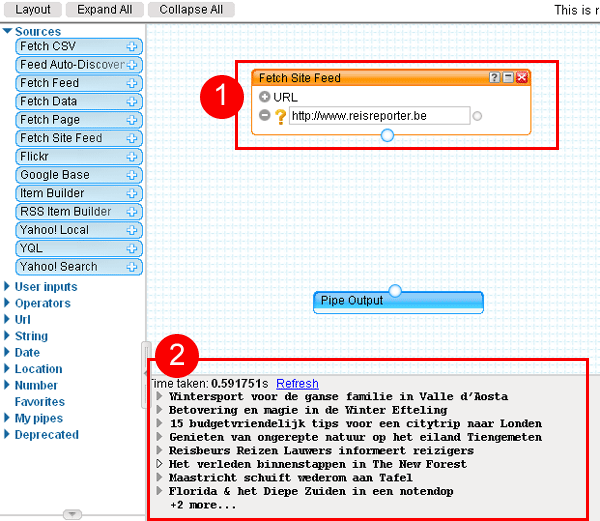 url invullen (als de site een feed heeft wordt die automatisch gedetecteerd). Om meerdere url's toe te voegen, gewoon op het plustekentje klikken
dit is de feed die wordt gevonden van de ingegeven url
Vervolgens gaan we een filter gaan toevoegen om alle topics die ons niet interesseren eruit te halen. Als je kijkt bij nummer 2 van vorige afbeelding, dan zie je als 3e topic staan "15 budgetvriendelijke tips voor een cityttrip naar londen". Citytrips of reizen naar Londen is niet ons vakgebied en willen we er dus uithalen :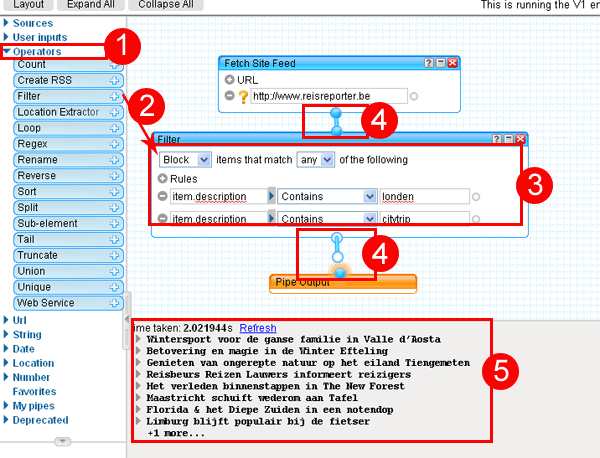 Bij operators gaan
De filter naar je werkblad slepen
De filters gaan toevoegen. In ons geval willen we geen enkele post zien verschijnen in onze pipe die het woord londen en of citytrip bevat
Al onze modules aan elkaar koppelen zodat ze een 'pipe' vormen
Refreshen en we zien dat de post over die citytrips naar Londen eruit is gehaald
Vervolgens :

het kind een naam geven
je werk opslaan
en de pipe gaan bekijken
Lijkt me verder allemaal duidelijk :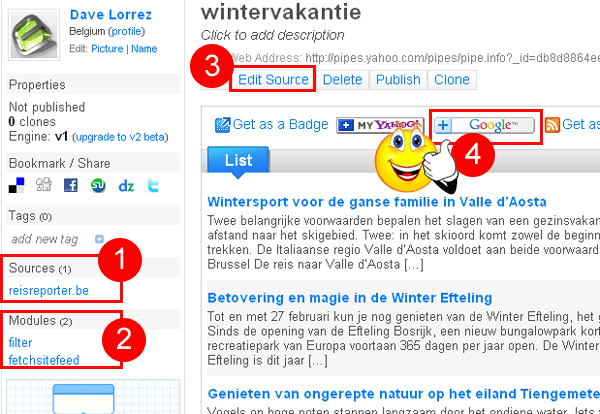 welke sites er in je pipe zitten
welke modules je er hebt inzitten
bewerken van je pipe
het beste nieuws : je kan deze pipe aan je google reader toevoegen :)
Stap 2: Automatisch Data verzamelen
Als je geen zin hebt om manueel al die zaken te gaan uitpluizen is er ook een semi-auto manier. Enige nadeel is dat dit enkel werkt in google.com maar alles wat je kan meepakken is natuurlijk mooi meegenomen. Als je maar niet op google.com raakt , dan gebruik je best Joost zijn plugin.
Vervolgens gaan we ons keyword(s) gaan intikken en :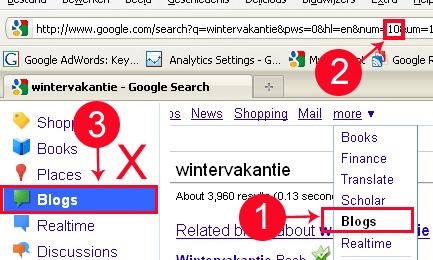 klik op blogs
verander die 10 in 100 om zo niet de eerste 10 maar wel de eerste 100 resultaten op 1 pagina te krijgen
ga niet via deze link naar Google blogs, er wordt een andere url getoond waar je die 10 niet meer zal terugvinden
Scroll vervolgens helemaal naar beneden en klik op RSS :
Op die manier dump je de eerste 100 resultaten voor het keyword wintervakantie in je feed reader en krijg je dagelijks een massa aan nieuw voer en potentiële netwerk contacten / bloggers binnen.
Stap 3: Communiceren
Voila, in enkele eenvoudige stappen heb je al een boel weten te automatiseren en kan je in een mum van tijd zien of je vandaag ergens je kop kan opsteken bij één of meerdere bloggers en je netwerk kan uitbreiden.
Naast het vinden van de goede partijen en het nauwlettend opvolgen (en het plaatsen van reacties waar mogelijk) van onder andere hun blogposts zijn er natuurlijk nog een paar zaken die het netwerk proces kunnen versnellen :
1. Volg hun op twitter
Een pak bloggers zijn ook te vinden op twitter. Twitter geeft je een extra mogelijkheid om mensen beter te leren kennen door beetje in de gaten te houden waarover ze tweeten en welke andere posts/topics ze makkelijk retweeten. Eenmaal je dat weet is het een stuk makkelijker om de juiste content te produceren waar ze ongetwijfeld waar zullen naartoe willen linken.
2. Communiceren & Promoten
Geen makkelijker medium dan twitter om rechtstreeks in contact met mensen te komen. Door hun @twitternaam in je tweet te vermelden zullen ze je ongetwijfeld wel opmerken. Wat niet wil zeggen dat ze gelijk gaan reageren maar als je voldoende voorbij komt met nuttige info/vragen/suggesties/links zullen ze ooit wel antwoorden. Eenmaal je dat kan bereiken is het eerste ijs gebroken"¦
Hetzelfde kan je doen door vanuit één van je blogposts naar één van hun artikels te verwijzen. Zo kom je ook wel op hun radar terecht..
3. Haal cash boven
Klinkt op het eerste moment misschien niet echt aantrekkelijk maar cash is nog steeds een ideaal middel om ijs te breken.  Misschien bieden ze advertentieruimte aan op hun site waar je hun een plezier mee kan doen of kan je ze (zoals in ons geval hier) een nieuw model van skibril aanbieden om te testen en een review over te schrijven.
Een laatste manier wat ik wel eens gebruik waar mogelijk is het gratis aanbieden van items zodat ze een wedstrijd kunnen organiseren. Dat beetje dat die producten je meestal kosten wegen niet op tegen de return die je meestal ziet !
4. Ga een discussie aan via mail
Mocht je weten hoeveel goede contacten (en dan heb ik het ook echt over biz partners, niet enkel link partners) ik heb 'gevonden' door ze gewoon een mail te sturen met vragen/bemerkingen op een artikel dat ze ooit publiceerden en daarop verder te breien"¦Een must do !
Er zijn tal van manieren om in contact te komen met mensen in je markt en daar ook een goede relatie met op te bouwen. Het enige wat je nodig hebt is de nodige portie geduld en volharding. Maar ik kan je garanderen dat het ooit zijn vruchten gaat (blijven) afwerpen !